Regular price
Sale price
$649
Unit price
per
Sale
Sold out
Free shipping on orders over $250!
Exclusively available at Diamond Face Institute
Home Delivery:
Save $100 when you purchase both the ionized collagen mask and the intensive collagen serum from our web-store.
PURIGENEX's flagship products are collagen-based intensive skin therapies: ICS Intensive Collagen Serum and ICM Ionized Collagen Mask. These formulas are medically engineered with the world's most highly purified atelocollagen — a truly non-immunogenic, bio-compatible element in the most active animal-source form.

Collagen of this quality has never before been offered in topical cosmetic preparations. ICS and ICM are FDA-registered, preservative-free formulas that are highly tolerated by even the most sensitive individuals. These products are indicated for all who are seeking to prevent and repair their skin from aging, sun damage, discolorations, and acne scarring. Regular, directed use will boost the skin's own collagen integrity, to make it appear plumper, smoother, more supple, and more youthful. Additionally, skin nourished with PURIGENEX collagen is able to function more effectively as part of a healthy body's natural defense system.
Benefits
Skin recovers elasticity after using PURIGENEX collagen.
ICM Ionized Collagen Mask penetrates cells and increases the strength and tone of loose or aged skin tissue. This mask also potentizes the skin for deeper penetration of ICS Intensive Collagen Serum.
ICS Intensive Collagen Serum nourishes and fortifies the skin and activates the body's own collagen generation. Cell aging is delayed by collagen and hyaluronic acid. These ingredients smooth and fill fine wrinkles in the epidermis, and promote cell regeneration in the basal layer of the skin. Wrinkling of the neck and around the eyes will appear to be reduced as the improvement to the epidermis lifts and conceals deeper creases in the dermal layer.
Handling
Purigenex Collagen products are shipped in a refrigerated pack with special gel ice packs to ensure the proper temperature.

Please refrigerate contents immediately upon receipt!

Simply remove the masks from the refrigerator when ready to use and apply as directed. Each mask is a one time application.

When applying the collagen serum from the bottle, remove it from the refrigerator when ready to use, apply as directed, and always remember to return the bottle to the refrigerator immediately after application to insure its continued efficacy.

Purigenex Collagen will remain effective for 1 year if kept refrigerated.
View full details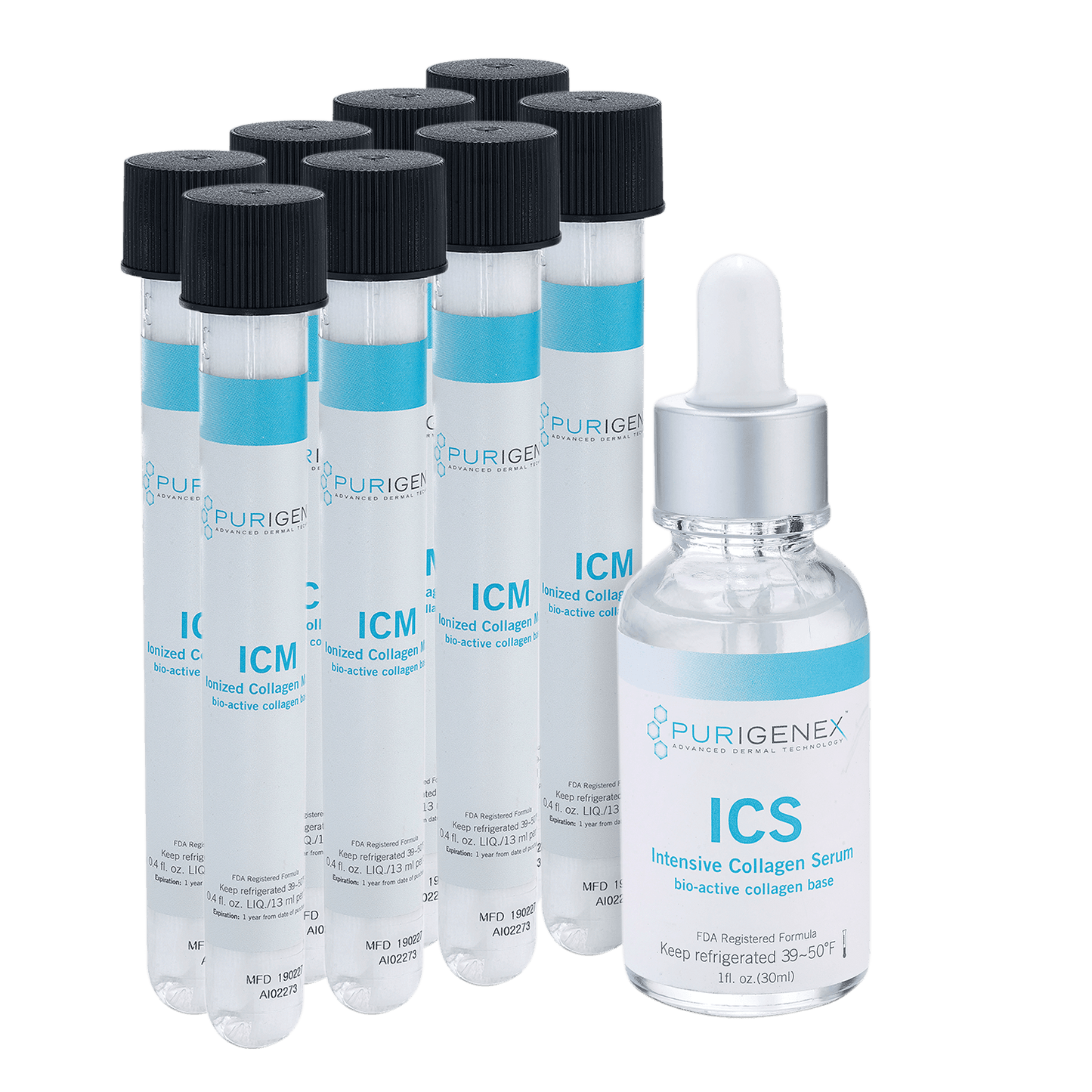 Free Shipping

When you spend $250 or more. Some exclusions apply.

Easy & Secure Payment

Credit Cards, Paypal, Apple Pay, Google Pay and Shop Pay